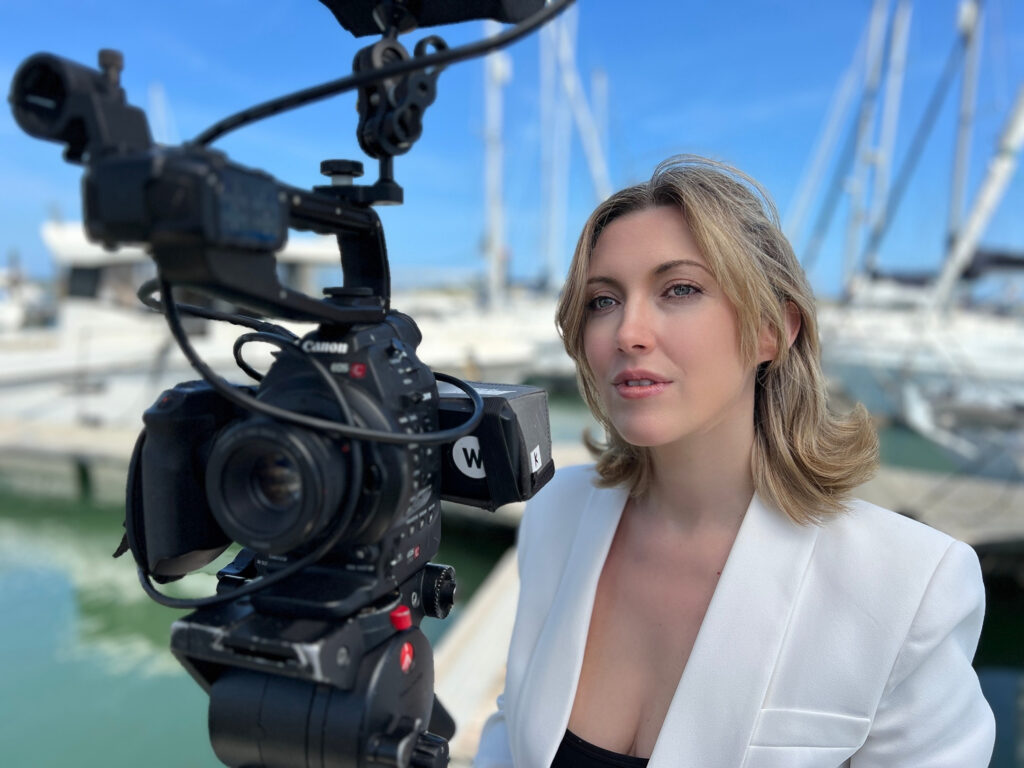 Amy-Joyce Hastings is an IFTA Nominated actress and award winning short film writer/director who is passionate about creating dynamic female characters for the screen. She holds a Bachelor in Acting Studies from Trinity College Dublin and got her first taste for directing in theatre.
She is a co-founder and creative director of Film Venture – a production company and screen training studio for actors – whose films have earned a combined 9 x IFTA Award Nominations since 2016. She was personally nominated for the 'Best Supporting Actress' IFTA Award for her role as Oonagh in Who We Love at the 2022 Irish Film & Television Academy Awards.
She co-wrote and directed QED, a seventeen minute human rights drama produced by Filmbase. It premiered at the 29th Galway Film Fleadh before going on to win 'Best Overall Short Film' at the Santa Fe Film Festival, and the 'Golden Palm Jury Award' for Narrative Short at the Mexico International Film Festival in 2018. The film was part of the Cannes Film Festival Courts Métrages and has been screened and nominated at numerous festivals in Europe, America and in Ireland. Amy-Joyce was nominated for 'Emerging Female Filmmaker' at the IndieCork 2018 Festival. QED was broadcast nationally on RTÉ Television's Shortscreen program in 2019 and 2021
She wrote and directed micro-comedy Body of Christ which was commissioned by the Galway Film Centre. It broadcast on Sky Television's Showcase series The Short Film Show and Amy-Joyce won the inaugural Award for 'Best Original Content' on Sky TV's International Short Film Awards in March 2018. The film won several awards and nominations in festivals from Ireland to the US. It has screened all over the world, including television broadcasts in the UK and China, and is available as part of The Short Film Show series on Amazon Prime.
She created a micro-documentary during the Coronavirus lockdowns titled Sign of The Times which played internationally on the festival circuit in 2020. Previously she wrote and directed Nocturne Passage, a 9 minute psychological horror and Hear Me Now, a 3 minute satire. In 2023 she wrote and directed ten scenes as part of The Gaiety School of Acting's Graduating Class of '23 Film Project.
She has a great appreciation for concise, impactful writing and she was invited to speak on a panel at the BFI London on the art form of micro-filmmaking, as part of the 60 Second International Film Festival. She was also a guest of the San Francisco Irish Film Festival speaking about her work with UC Berkeley's Professor of Irish Studies.

She is a national award winning essayist, and former film reviewer and arts writer for websites in Ireland and the UK. Her short film script Perspective won the Writers Guild of Ireland 'Best Short Screenplay' award at the 2023 Catalyst International Film Festival. It also won a Screenwriting award at the Hammond House Publishing International Literary Festival 2021, with entries from 26 countries, and was a finalist for the 2022 Kerry International Film Festival Screenwriting Competition. Perspective is currently a finalist for the Screenplay Award at the upcoming Waterford International Film Festival, and it is in development for production in 2024 with Galway's Danú Media.
As a filmmaker she loves to experiment with tone, ranging from dark to playful, and uses bold visual motifs to great effect. Her work often focuses on post traumatic healing and complex human relationships. Her primary goal is to tell stories which move people and challenge them to new perspectives. She brings her passion and understanding of the craft to the table when directing actors on film and is experienced at translating modest resources into polished finished projects. She is a member of the Writer's Guild of Ireland and Women in Film & TV Ireland.
Follow @amyjoyhas for more.