Welcome
Amy-Joyce Hastings is an award winning actress who has starred in dozens of productions, both on stage and screen.

Upon graduating Trinity College Dublin's Samuel Beckett Centre with a Bachelor in Acting Studies, she moved to Sydney, Australia and later to London where she worked in both film and theatre. She is now based in her native Ireland.

In the course of her career she has played opposite actors such as Julie Christie, Iain Glen and Henry Cavill, and worked with internationally acclaimed directors including Pat O'Connor, Agnieskja Holland, and Alison Macleane.

Her performance as Oonagh in the multi-award winning, IFTA nominated Lily, earned her the award for Best Supporting Actress at the 2017 Underground Cinema Awards. She reprises this role in the current feature film adaptation titled Who We Love, which has just begun its festival journey.

She starred as the title character in The Callback Queen, a romantic comedy set in London's film industry which premiered in the U.S. at George R. R. Martin's Jean Cocteau Cinema. The film received two IFTA nominations at the 2016 Awards.

She played Iseult in Sanctuary, Len Collin's groundbreaking, critically acclaimed film, which won awards around the world including Best Irish Feature Film of 2017 from the Dublin Film Critics Circle. She can also currently be seen in mystery thriller The Green Sea with Katharine Isabelle, directed by Randal Plunkett.

This site contains media and information about her past and current film, television and theatre projects, for you to enjoy.
Amy-Joyce Hastings has tonight won the inaugural Award for Best Original Content on Sky Television's International Short Film Awards for her short film Body of Christ. The Awards Ceremony was held in Nottingham and will be broadcast on Sky Channel 212 on Monday 26th March at 22:00. The entire first series of The Short Film Show is currently available on Amazon Prime.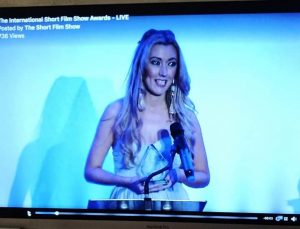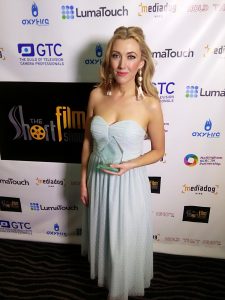 Body of Christ was commissioned by the Galway Film Centre (UNESCO City of Film). The film took home the Award for Best One Minute Film at the 7th Underground Cinema Film Festival, won 2nd place at the 28th Galway Film Fleadh's One Minute Film Festival, and was nominated for the Micro Cinema Award at the Blackbird Film Festival in New York.