SCREEN PERFORMANCE REVIEWS
WHO WE LOVE
A film about coming of age and coming out, Who We Love tells the story Lily and Simon, best friends who navigate the troubled waters of school life and explore Dublin's vibrant and sometimes dark LGBTQ+ scene under the sharp eye of reluctant mentor Oonagh. Who We Love is the feature film adaptation of the IFTA nominated, award winning short film Lily and was nominated for six Irish Film & Television Academy Awards (including Best Supporting Actress – Film for Amy-Joyce Hastings) at the 2022 Irish Film & Drama Awards.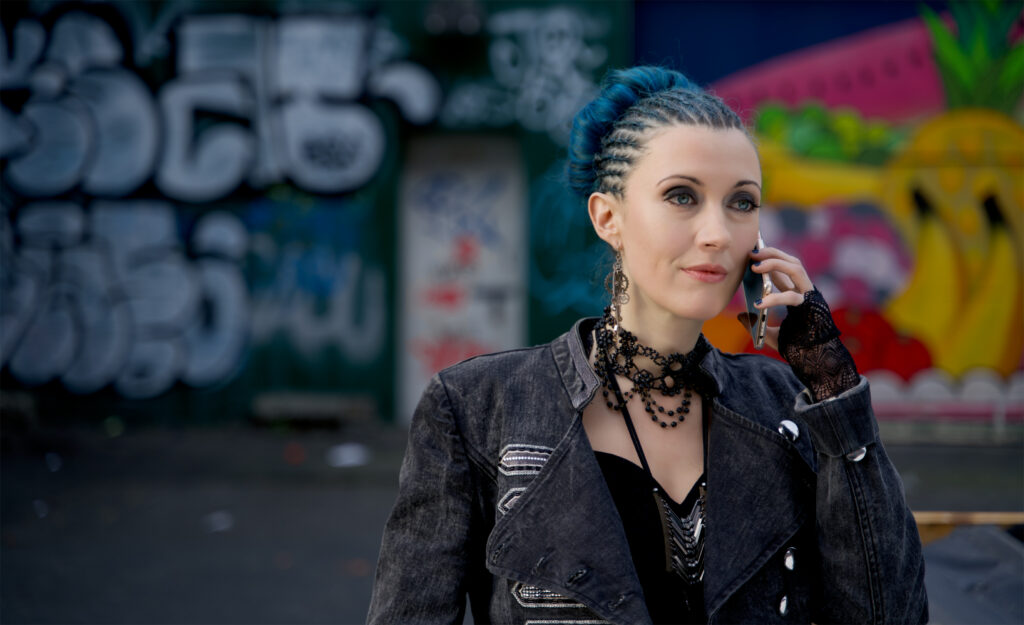 The importance of gay mentors and role models is also stressed, with a likably feisty Amy-Joyce Hastings in the supporting role of Oonagh, "a dyke Morpheus helping kids negotiate the gay Matrix".

– Wendy Ide, Screen Daily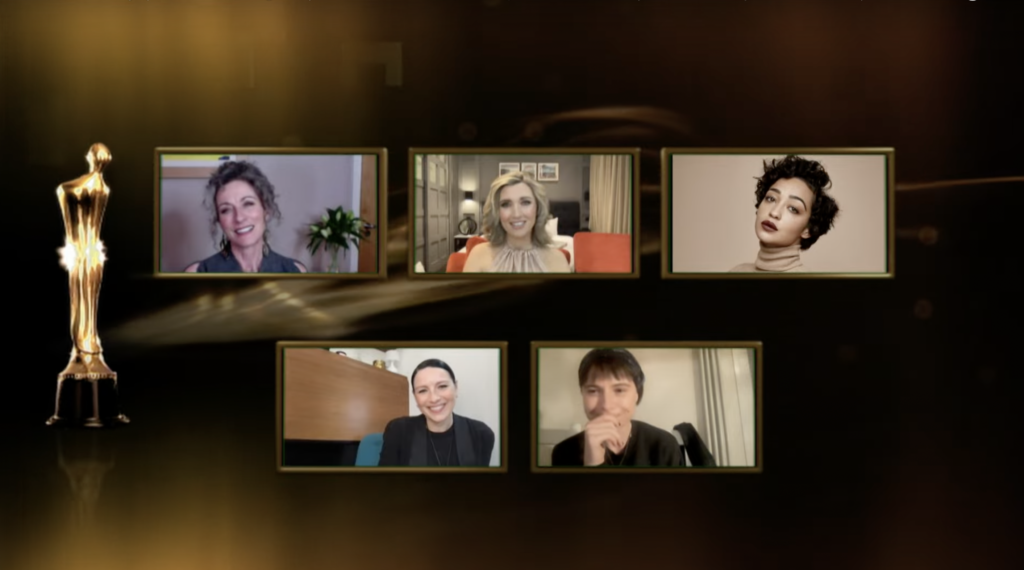 It is my great privilege to be able to announce the nominees and the winner of the best supporting actress this year… an incredible year of work … globally lauded performances that are raw and empathetic and just show true mastery of their craft.

– Colin Farrell, IFTA Awards Ceremony 2022
Amy-Joyce reprised the role of Oonagh and really delivered the part. It was feisty, edgy and brave. Fantastic… riveting work… great talent.

– Áine Moriarty, CEO, Irish Film & Television Academy
LILY
Acclaimed short film that deals with bullying of LGBT youth. It tells the story of Lily, a girl with a secret, on the cusp of becoming a young woman.
[Simon] brings Lily to meet Oonagh (Amy-Joyce Hastings), a young woman who takes Lily under her wing. Oonagh advises Lily to adopt a new persona, and to tough it out… Cantwell should be lauded for his light touch which addresses so many current issues regarding LGBT experiences… alluded to in Lily's portrayal of Oonagh's decision to choose her own path. Lily's recent success testifies to its resonances with audiences around Ireland and abroad: it was both nominated for an IFTA, and won the Youth Award at the Iris Prize Festival, known as the LGBT Oscars… and at the Underground Cinema Awards, where Amy-Joyce Hastings also won the Best Supporting Actress award.

– Sarah Cullen, Film Ireland
The short film which had the strongest impact on the audience of the Casa del Cinema is probably Graham Cantwell's Lily… The wonderful actors Clara Harte and Amy-Joyce Hastings received the highest acclaim… two young (and very gracious) performers… Amy-Joyce Hastings, also performed in Sanctuary, another of the most interesting and innovative feature films we discovered during the festival… Excellent acting in Lily and Sanctuary at the Irish Film Festa in Rome.

– Stefano Coccia, Cine Clandestino Italy (Translation)
A well crafted look at the LGBT experience through the eyes of an Irish schoolgirl… He introduces Lily to Oonagh (Amy-Joyce Hastings). Oonagh mentors Lily and advises her to toughen up and to fight back. This includes coming to terms with her sexuality and being proud of it. The direction, writing and cinematography are of a high standard. The cast do an excellent job too to make this a well-rounded short.

– Logicproreview, IMDb Reviews
One of the key moments in the film comes when Oonagh, a tough as nails character, a reluctant mentor to Lily, opens up to her and advises her how to deal with the challenges she will face. Her speech is everything I wish someone had said to me at that age, and is one of the cornerstone moments of the film.

– We Are Moving Stories
THE CALLBACK QUEEN
A sparkling romantic comedy set in the London film industry, The Callback Queen was nominated for two IFTAs at the Irish Film and Television Academy Awards in 2016. Following a two year run on the European festival circuit, the indie film enjoyed a limited cinema release in Ireland and the UK, and Game of Thrones creator George R.R. Martin hosted a successful week of screenings of the film at his Santa Fe Jean Cocteau Cinema in the US. It was released on VOD on multiple platforms, plus a DVD/Blu-Ray release.
A romantic comedy about moviemakers and aspiring actors that pokes fun at the whole casting carousel… Very enjoyable with lots of laughs.

– George R. R. Martin, Game of Thrones Creator
The Callback Queen is a movie about young filmmakers making movies. Brimming with in-jokes about the business, it's as cute and endearing as a puppy rescued from the pound. Kate Loughlin (Amy-Joyce Hastings) is an Irish actress trying to make her mark in the London film world. She's a pretty redhead with a good head on her shoulders… The two prongs of the movie's satirical pitchfork are moviemaking and Irish-English friction, and the latter provides some of the film's funniest moments… Hastings is smart and appealing and there's plenty of sharpness and wit on display.

– Jonathan Richards, Santa Fe New Mexican
Amy-Joyce Hastings is charming enough as Kate, an Irish actress failing to get the right sort of roles in a picturesque incarnation of London. During the opening act, she finds herself rubbing up against Vincent (Mark Killeen), an internationally successful director, while indulging her old friend Daithí (Seán T Ó Meallaigh), who is making an experimental short… While Daithí develops his unscripted production into something that looks unexpectedly like a Silvikrin commercial, Kate and Vincent drift towards cute love.

– Donald Clarke, The Irish Times
His new film follows the life of a young Irish actress, Kate Loughlin (Amy-Joyce Hastings)… Cantwell certainly gets his laughs, especially when he allows himself to indulge his film with an unmistakable brand of Irish humour… The Callback Queen is a rom com on par with the vast majority of the more expensive counterparts… It is quite remarkable that Cantwell was able to make it all come together with a much smaller budget. Another thing that is admirable is the way in which he is able to give his characters their moments to shine and at least one stand out gag each… An enjoyable piece of light hearted entertainment.

– Matt Micucci, Cinecola
Amy-Joyce Hastings – Rising Galway Actress.

The new name to watch out for in Irish cinema could well be the Oughterard born actress, writer, director, and producer, Amy-Joyce Hastings.

– Kernan Andrews, The Galway Advertiser
The Callback Queen, a comedy starring up and coming Galway actors Amy-Joyce Hastings (The Tudors) and Seán T. Ó Meallaigh (An Klondike) in the leading roles will open at IMC Galway for one week only from this Friday, October 2. The film originally had its world premiere at the Galway Film Fleadh where it was warmly received by the full house in attendance. The series of Galway screenings follow a theatrical release in both Northern Ireland and Dublin, as well as an exclusive run in the US Cinema owned by Game of Thrones author George R. R. Martin. The indie flick should appeal to a range of audiences, including fans of comedy, romance, epic fantasy and showbiz stories.

– Connacht Tribune
The hilarious The Callback Queen is a charming romantic comedy that follows the exploits of Kate Loughlin, an Irish girl looking to make it big in the cutthroat world of the London film industry. It stars Galway actress Amy-Joyce Hastings. With a host of colourful characters and madcap situations, your popcorn will be left wet and soggy as a result of all the tears of laughter that you're guaranteed to shed.

– Domhnall O'Donoghue, Irish Tatler Man
Two Galway actors who are set for stardom thanks to the screening of The Callback Queen at the IMC Cinema this month. It is a major platform for both Amy-Joyce Hastings and Seán T. O'Meallaigh

The Craic Magazine, Galway
Irish actress and soon to be mega-star, the gorgeous and amazing Amy-Joyce Hastings… The fab rom-com stars one of the hottest up and coming Irish actresses, the stunning Amy-Joyce Hastings, as a struggling actress looking for her big break in London. Expect giggles, romance and lots of fab antics in this perfect girly flick!

– Niamh O'Reilly, Beauty Couture
The multi-talented screen queen Amy-Joyce Hastings

– New Mexico Entertainment magazine
Genuinely funny. Genuinely romantic.

– Gar O'Brien, Galway Film Fleadh
The Callback Queen, a hilarious romantic comedy

– Geoff Thompson, Luxembourg Chronicle
Amy-Joyce Hastings is Kate, the titular Irish actor trying to make it in London… A funny, feel-good romcom about the traumatic casting call process.

– Scott Larson, IMDb Affiliate Critic
Amy-Joyce Hastings gives a wonderful performance as Kate Loughlin. Very funny and very stylish film. Amy-Joyce shines in this. She plays a very winning role and this showing bodes well for her future screen career.

Frank Allen, IMDb User Reviews
Romantic Comedy takes place in London

I went to see Callback Queen not really knowing what to expect. It was a nice surprise! It had some good laughs in it. I really enjoyed Amy-Joyce Hastings' performance. She was charming. I think she has a great future in film.

Delpha7, United States, IMDb User Reviews
Amy Joyce-Hastings, as the lead, is very lovable.

– LC Canavan, Amazon Reviews
A Rom Com set in London about about a gorgeous young Irish Actress's trials and tribulations. Loved every single bit of it… The story line was really funny and I could see that the audience had a great time watching it. Amy-Joyce Hastings did a really good job playing Kate Loughlin.

– Rodrigo Ternevoy, Amazon Reviews
DANCER
A multi award winning British short film. In the wake of a tragic accident, Jack struggles with the guilt of what he has done. As it begins to consume him, he finds himself drawn towards the family of the victim. Dancer is a tale of redemption, of good people doing bad things and, ultimately, the price they have to pay.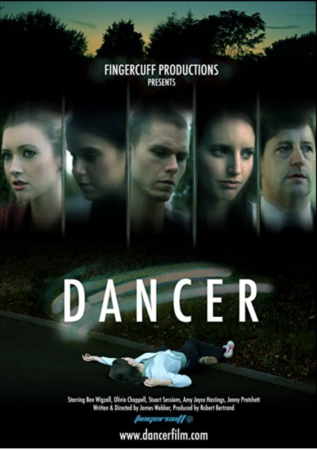 Hastings really sells her character Anna's fixation on her marriage particularly through her excellent non-verbal reactions when she realises he is not confessing to some sexual fling but something worse. Dancer is an engrossing, moving, character-led drama. It is a complex piece of work which grows richer with every viewing.

– American Motion Picture Society
A cast of excellent actors delivering a moving story about the aftermath of a hit and run fatality.

– Guernsey Press
This film demonstrates how a relatively simple story-line can be delivered with power and emotion. This is achieved through high quality writing, thoughtful direction and excellent acting. The film is well acted throughout with each character being played with a refreshing restraint.

– Best British Film, BIAFF 2011
This simple idea develops into a very mature film and utterly compelling watch. The excellent construction and terrific acting deliver a real punch and satisfying, if charged, experience. This tragic story is superbly executed, with excellent acting by the talented cast, all of whom are totally convincing in their roles. A first class film which gripped me from beginning to end. The casting was perfection, the acting superb and the script so well written that it flowed beautifully. As an ensemble acting piece 'Dancer' was excellent. All the performances had a strong natural feel to them, which really pushed this film above the other contenders and the cast deserves praise for this.

Best Film, Guernsey Lily Film Festival 2010