Welcome
Amy-Joyce Hastings is an award winning actress who has starred in dozens of productions, both on stage and screen. Her performance as Oonagh in the powerful LGBTQ drama Who We Love earned her an IFTA Nomination for Best Supporting Actress - Film at the 2022 IFTA Awards.

Upon graduating Trinity College Dublin's Samuel Beckett Centre with a Bachelor in Acting Studies, she moved to Sydney, Australia and later to London where she worked in both film and theatre. She is now based in her native Ireland.

She starred as the title character in The Callback Queen, a romantic comedy set in London's film industry which premiered in the U.S. at George R. R. Martin's Jean Cocteau Cinema. The film received two IFTA nominations at the 2016 Awards.

She played Iseult in Sanctuary, Len Collin's groundbreaking, critically acclaimed film, which won awards around the world including Best Irish Feature Film of 2017 from the Dublin Film Critics Circle. She can also currently be seen in mystery thriller The Green Sea with Katharine Isabelle, directed by Randal Plunkett.

This site contains media and information about her past and current film, television and theatre projects, for you to enjoy.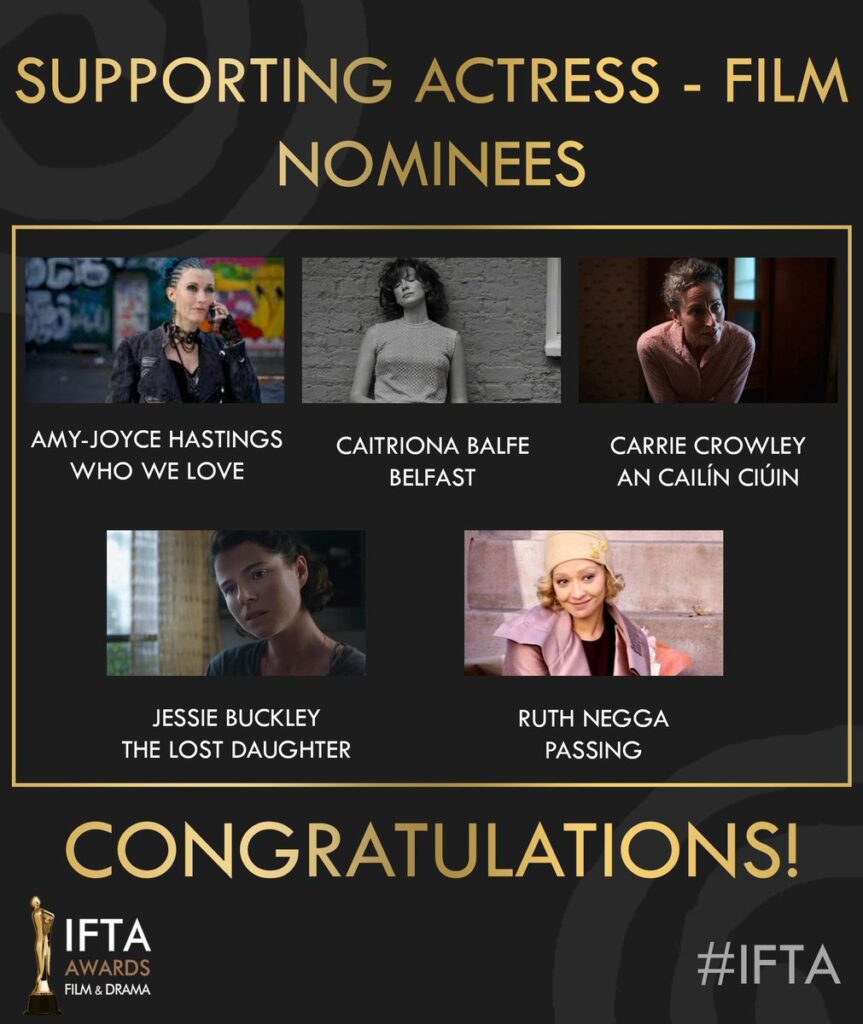 Amy-Joyce Hastings has received an Irish Film & Television Academy Award Nomination for Best Supporting Actress – Film for her performance as Oonagh in Who We Love. Fellow nominees include Caitriona Balfe for Belfast, Carrie Crowley for An Cailín Ciúin, Jessie Buckley for The Lost Daughter, and Ruth Negga for Passing.
Who We Love received a total of six nominations for the 2022 IFTA Awards including Best Film for producers Graham Cantwell and Edwina Forkin, Best Director for Graham Cantwell, Best Script for co-writers Cantwell and Katie McNiece, Best Supporting Actress, Best Supporting Actor for Dean Quinn, and Best Score for composer Joe Conlan.
The awards ceremony will be broadcast on Virgin Media Television on Saturday 12th March with the Award for the Best Supporting Actress category presented by Colin Farrell.